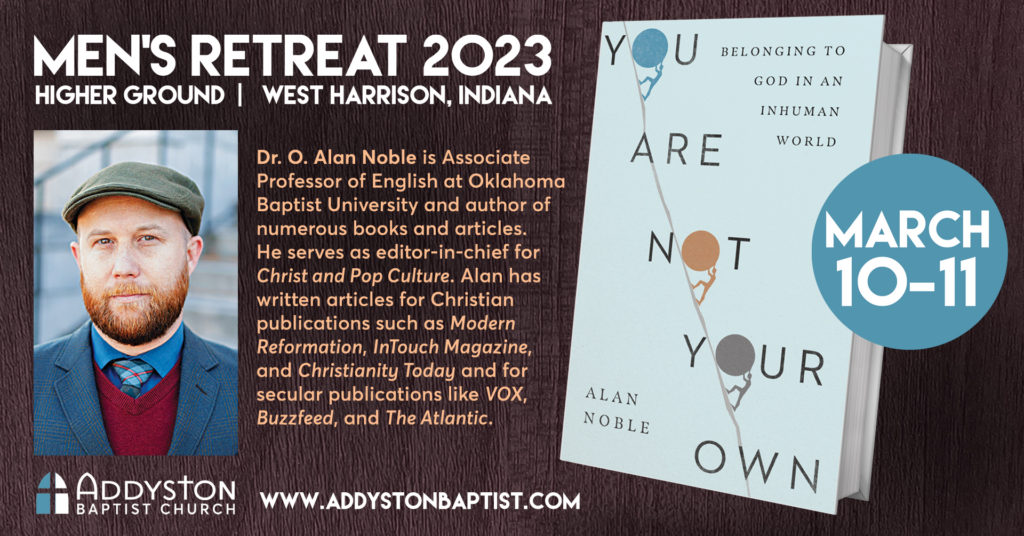 You are invited to our annual Men's Retreat at Higher Ground March 10-11. We are delighted to have Dr. Alan Noble, author of Disruptive Witness (2018 WORLD Magazine Book of the Year) and You Are Not Your Own (2021 Gospel Coalition Book Award Honorable Mention). He will be discussing topics from his latest book–the burden of crafting the modern self, the inhumanity of our culture, and a new way forward in light of the gospel.
As always, we will enjoy good fellowship, delicious meals, and a variety of recreational activities. Friday evening will feature a keynote address from a yet-to-be-named speaker. This year we are offering a number of new options (per person):
Saturday Only ($40) – Includes access to two sessions with Dr. Noble and lunch afterwards.
Full Retreat / No Lodge Room ($60) – Includes access to all sessions and meals, but you will need to make your own arrangements for accommodations offsite.
Full Retreat (4/Room – $100) (3/Room – $105) (2/Room – $115) (1/Room – $150) – Includes all sessions and meals, as well as a lodge room.
To make your reservation, please contact Philip duBarry or call the church at 513.941.4897. Feel free to leave a message, and we will return your call as soon as we are able. You may pay by check (send to Addyston Baptist Church, P.O. Box 518, Addyston, OH  45001-0518) or by card through the secure link at the top of this page.